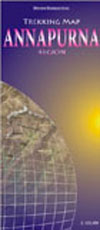 Detailed, easy-to-read fold-out trekking map showing
all major trails and roads. Contour-coloured so that users can
visualise the lay of the land, picturing mountain ranges
and other relief features with ease.
The map covers the entire Annapurna region, from
Pokhara to Kagbeni in the north, showing not only the
the Annapurna Circuit and Sanctuary trails, but also
routes to Naar-Phu and Tilicho Lake and other less
frequented tracks. The Manaslu and Dhaulagiri ranges, visible
from several locations on the Circuit trek, are also shown.
Most major settlements and campsites shown on the trails,
as also peaks, are marked along with their altitudes,
in both metres and feet.